This is an archived article and the information in the article may be outdated. Please look at the time stamp on the story to see when it was last updated.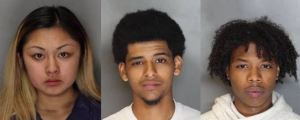 ELK GROVE –
Three suspects have been arrested in the attempted homicide of a teenager Thursday night in Elk Grove.
Around 8:30 p.m. officers received a report of a man who had been shot. Upon arriving at the scene, officers found 19-year-old Alec Fjeldstad lying on the street with gunshot wounds to the abdomen.
Investigations and statements from Fjeldstad revealed the victim had agreed to meet with 19-year-old Tiffany Lai of Elk Grove to buy a controlled substance. Fjeldstad was driven by 20-year-old Elijah Graham of Sacramento and 19-year-old Avalon Clark of Elk Grove to the meeting point. Once there, Lai told Graham and Clark to turn on Fjeldstad and rob him.
Lai, Graham and Clark were arrested on charges of attempted murder and attempted robbery.
Ruben Dominguez filed this report.