This is an archived article and the information in the article may be outdated. Please look at the time stamp on the story to see when it was last updated.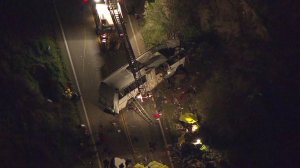 The U.S. Department of Transportation Friday ordered a California company involved in a deadly tour bus crash to stop operating buses in the United States, saying the company posed an "imminent hazard to public safety."
It was the second time this year the government ordered a bus company to close following a fatal crash. In both cases, the DOT cited the small companies for numerous safety hazards in its most recent safety reviews, but found justification for closing the companies only after the fatal crashes.
In Friday's action, the government shut down Scapadas Magicas LLC's operations, following a February 3 accident in which a bus driver lost control while returning to Tijuana, Mexico, following a day trip to a ski resort in Southern California. The bus struck two other vehicles and overturned.
Seven passengers on the bus and the driver in one of the struck vehicles were killed and more than 40 injured. The driver stated that the vehicle's brakes failed, according to the DOT.
Following the crash, the DOT's Federal Motor Carrier Safety Administration conducted safety inspections on the company's two other buses and found serious safety violations on each, leading to the shutdown.
According to the DOT, inspectors found vehicle maintenance violations during 21 of the most recent 25 vehicles inspections of Scapadas Magicas's buses — resulting in buses being placed out of service 36% of the time.
During a January review of the company's records, investigators ordered corrective actions in the company's safety management systems, but Scapadas Magicas failed to take necessary actions, the DOT said.
"Safety is our number one priority, and we will not tolerate unsafe bus companies on our nation's roads," said U.S. Transportation Secretary Ray LaHood. "We will not allow safety to be compromised."
In January, the DOT barred a Canadian motor coach company — Mi Joo Tour & Travel Ltd., — after a December crash in Oregon that killed nine and injured 39. Although the cause of the crash is still under investigation, FMCSA said it had determined the driver had worked 92 hours in the seven days leading up to the crash — far exceeding the 70 hours allowed.
An attorney representing the company and the driver blamed the crash on black ice — virtually invisible road surface ice.
In barring company operations, FMCSA said Mi Joo failed to take basic measures to ensure that its drivers were properly rested.
Safety advocates have argued that FMCSA has been too lenient in its application of safety rules — shutting down companies only after major incidents.
Just this week, National Transportation Safety Board Chairwoman Deborah Hersman highlighted gaps in bus safety when compared to rigorous enforcement of aviation rules.
"You would never see hours-of-service violations in aviation," Hersman said. "Pilots would not bust their hours, but (we) see it routinely on the highways."
"And so these are the same issues. We see them over and over again. We've got to have regulations with teeth and the penalties have got to be a deterrent," she said.
The FMCSA has defended its record saying that federal and state inspectors conducted more than 3.5 million truck and bus inspections across the U.S. each year.
Drivers and vehicles are routinely places out of service when violations are found, FMCSA said.
"Even if a violation is not severe enough to place a company out of service immediately, companies are required to correct all violations for which they are cited," and minor violations can result in stepped-up inspections, the agency said.
By Mike M. Ahlers
The-CNN-Wire/Atlanta/+1-404-827-WIRE(9473)
™ & ©2013 Cable News Network, Inc., a Time Warner Company. All rights reserved.