This is an archived article and the information in the article may be outdated. Please look at the time stamp on the story to see when it was last updated.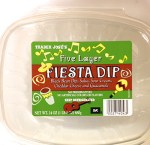 More than 14,000 lbs. of hummus and dip is being recalled because of the risk of a possibly deadly infection.
Lansal, Inc., announced this week they are voluntarily recalling various dips sold under the Target and Trader Joe's brands.
According to the FDA, the company says there are listeria concerns.
Listeria is an organism that can cause serious, and sometimes deadly infections in young children, pregnant women, elderly people and others with weakened immune systems.
Even healthy people can get symptoms like high fever, severe headache, stiffness, abdominal pain and diarrhea.
The following are some of the products being recalled:
-Target Archer Farms Traditional Hummus, Roasted Red Pepper Hummus, Roasted Garlic Hummus, with "use by" dates of June 9-12.
-Trader Joe's Edamame Hummus and 5 Layered Dip in small and large sizes, with "use by" dates in April and early May.
See the complete list of recalled products here.
This slideshow requires JavaScript.