This is an archived article and the information in the article may be outdated. Please look at the time stamp on the story to see when it was last updated.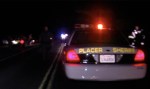 ROSEVILLE –
A driver in a dark-colored car hit a man and then drove off in Roseville early Tuesday morning, according to CHP.
The hit and run happened on Watt Avenue near PFE Road around 3:30 a.m.
Witness Heath Dougherty said he was in his house and heard a big fight going on outside.
He then heard a bang and thought it was a gunshot. He ran out with a friend and he said they saw someone had been hit by a car.
They tried holding the man's head because part of his skull was fractured.
Dougherty said, "We held hands, we prayed, we tried to keep his head intact."
The man was taken to the hospital. His condition is unclear.