This is an archived article and the information in the article may be outdated. Please look at the time stamp on the story to see when it was last updated.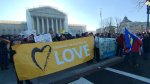 SALT LAKE CITY, Utah (CNN)-
A federal judge in Utah has denied the state's request to stay his ruling allowing same-sex marriage there.
U.S. District Judge Robert J. Shelby's ruling Monday comes three days after he struck down Utah's ban on same-sex marriage.
The decision last week drew national attention and sent throngs of couples to Utah clerks offices seeking marriage certificates.
Shelby said lawyers for the state had offered no evidence that opposite-sex marriage would be affected and that their "fears and speculations are insufficient to justify the State's refusal to dignify the family relationships of its gay and lesbian citizens."
Gov. Gary R. Herbert criticized the ruling last week, calling Shelby "an activist federal judge."
At the time, Herbert said he was working with his legal counsel and the acting attorney general "to determine the best course to defend traditional marriage within the borders of Utah."
Shelby held a hearing on the matter Monday and denied Utah's request to stay his decision, according to Mary Jane McNamee, his courtroom deputy.
McNamee told CNN the judge would issue a written ruling later Monday.
Utah voters approved a law banning same-sex marriage in 2004.
Shelby said the state's "current laws deny its gay and lesbian citizens their fundamental right to marry and, in so doing, demean the dignity of these same-sex couples for no rational reason.
"Accordingly, the court finds that these laws are unconstitutional," he said.
Same-sex marriage is banned by constitutional amendment or state law in: Alabama, Alaska, Arizona, Arkansas, Colorado, Florida, Georgia, Idaho, Indiana, Kansas, Kentucky, Louisiana, Michigan, Mississippi, Missouri, Montana, Nebraska, Nevada, North Carolina, North Dakota, Ohio, Oklahoma, Oregon, Pennsylvania, South Carolina, South Dakota, Tennessee, Texas, Virginia, West Virginia, Wisconsin and Wyoming.
But it is legal in 17 other U.S states and the District of Columbia: California, Connecticut, Delaware, Hawaii, Illinois, Iowa, Maine, Maryland, Massachusetts, Minnesota, New Hampshire, New Jersey, New Mexico, New York, Rhode Island, Vermont and Washington.
By Suzanne Presto and Catherine E. Shoichet
The-CNN-Wire
™ & © 2013 Cable News Network, Inc., a Time Warner Company. All rights reserved.