This is an archived article and the information in the article may be outdated. Please look at the time stamp on the story to see when it was last updated.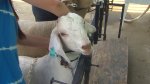 ELK GROVE-
The debate between vegan students and those that eat meat at Elk Grove High School has made its way onto Instagram and other social networks, and the words being used aren't all that pleasant.
"[One student] keeps posting about goats and sheep and pigs and dead pictures and them being slaughtered," said agriculture student Katie Velon.
The online allegations also include angry words for the schools Ag program, saying it "leads to the slaughtering of animals" and even describing how animals are drained of blood while their hearts are still beating.
But Ag students say they're proud of what they do and of what they're learning.
"I don't think it's fair for people to be saying that, because they don't understand the work we put into all these animals. And it's something we voluntarily do," said student Miranda McCurry.
The debate heated up online after outside vegan groups became involved, calling meat eaters "carcass crunchers." Some students have also reportedly been passing out fliers on campus.
Back on the farm, Ag students make no apologies for raising animals for food, though do understand the vegans' concerns.
"It's depressing," Velon told FOX40. "But it's still fun to work with [the animals] while they're alive."
One of the vegan students involved spoke with FOX40 but declined to go on camera. She said that no vegan Elk Grove student has used the "carcass cruncher" term and that she has not passed out any fliers.
Steve Bunnell filed this report.