This is an archived article and the information in the article may be outdated. Please look at the time stamp on the story to see when it was last updated.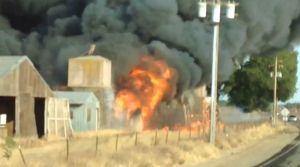 HICKMAN-
A large fire east of Modesto filled the Thursday afternoon sky with thick black clouds.
Stanislaus Consolidated Fire was recording as they approached the fire in Hickman, just south of the Foster Farms Dairy on Montpelier Road. The video shows the crews rolling up, and the extent of the flames engulfing the coups near the roadway.
The fire started in some vegetation Thursday evening around 6, but soon spread to multiple abandoned chicken coups and was threatening an occupied home.
Several fire agencies responded, and were able to get the fire out without any injuries. They are investigating what started the fire.
[protected-iframe id="f4ffb489f64c8307aa71519cfad649d6-37181424-39033240″ info="https://scontent-b-iad.xx.fbcdn.net/hvideo-xap1/v/t42.1790-2/10365709_345146478966760_1238280770_n.mp4?oh=2c32929442bbe458d90281a2c1992cd6&oe=5388FD7F" width="400px" height="250px"]