This is an archived article and the information in the article may be outdated. Please look at the time stamp on the story to see when it was last updated.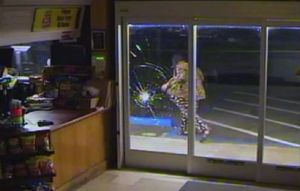 REDDING-
Police in Redding are trying to identify a suspect in the attempted robbery of a market.
Surveillance video shows a disoriented man, dressed in printed lounge pants approach the store.
He then decides to walk out of frame and put a stocking over his face.
As he approaches the storefront again, he throws a large rock at the front window, cracking it.
Once he sees the window only cracks, and doesn't break, the man turns to run away, but trips and falls.