This is an archived article and the information in the article may be outdated. Please look at the time stamp on the story to see when it was last updated.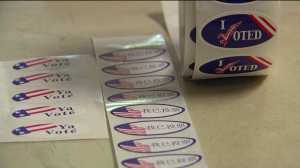 NEW JERSEY (LATimes.com)-
Voting rights advocates described the election in New Jersey on Tuesday as a "catastrophe," and said significant problems were also cropping up in Ohio, Florida and Pennsylvania, among other places, although it was not possible to immediately verify all of those reports.
In New Jersey, problems stemming from super storm Sandy caused election computers to crash and some polling places were not able to open by late morning, according to Barbara Arnwine, executive director of the Lawyers' Committee for Civil Rights Under Law. She also said some poll workers were demanding identification from voters, in violation of state law.
"There is just a word — just one word — to describe the situation around New Jersey, and that is catastrophe," Arnwine said in a teleconference that included representatives of a broad coalition of voting rights and civil rights advocates.The problems were not evident at precincts observed by Times' reporters in New Jersey.