This is an archived article and the information in the article may be outdated. Please look at the time stamp on the story to see when it was last updated.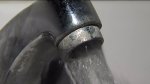 SALIDA-
You can't live without it; you drink it, cook with it and bathe in it, but what if you found out the water you use is toxic?
Water from Well #281 in Salida tested positive for a high level of nitrate, surpassing regulations.
According to the City of Modesto, who provides water to Salida, the test was performed Dec. 5. Residents weren't notified until Tuesday.
The well is now dry, and there is no sign of serious illness in Salida.
Nitrate is particularly dangerous for babies 6 months old and younger, and pregnant women.