This is an archived article and the information in the article may be outdated. Please look at the time stamp on the story to see when it was last updated.
WOODLAND-
Two waterfowl rescue organizations have stepped forward to help find a new home for two dozen geese whose pond has dried up in the past few weeks.
Local residents have been hauling water and food to the pond which has existed since construction workers dug up an area next to Interstate 5 in Woodland.
Katrina Lane and her friends made several trips to the area surrounded by industrial property, one time bringing in 35 gallons of water.  She has driven by many times over the years.
"I would see the little pond with all the geese swimming and a few ducks, and to come down and see this was just heart-wrenching," said Lane.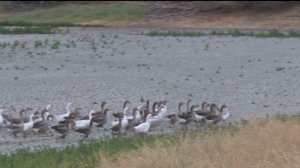 The pond isn't so little.  It is about 200 yards long and a 100 yards wide.  Many believe that domesticated geese were left here over the years.  The two dozen geese don't fly.
Without water, the geese are not only thirsty, they don't have protection from predators who come to the area at night.  Lane said she saw several geese stressed and staggering when she first went to the dried out pond last week.
The State Department of Fish and Wildlife say domesticated geese are not their responsibility. City workers brought in a 700 gallon horse trough to supplement water containers brought in by residents.  The geese were seen drinking from the trough Monday.
Lane received a phone call while she was speaking with FOX40 that confirmed Carolina Waterfowl Rescue and Hen Harbor from California have agreed to take the geese to a site in Santa Cruz where they will be examined and cared for.
"I'm so excited that it finally, finally happened because for a while we weren't sure what was going to happen to them," said Lane.
Lane said the groups are using their own funds and that donations to those groups would help defray the cost of capturing and transporting the geese.
Lane has never been involved in animal rescues of any kind but felt compelled to help the geese.
"I didn't do it for the publicity, I did it because they needed help and somebody needed to be there to speak for them and I did whatever I could possibly do," said Lane.