This is an archived article and the information in the article may be outdated. Please look at the time stamp on the story to see when it was last updated.
SACRAMENTO-
These girls don't need legs to dance.
"You can continue living your life after something horrible happens," said 20-year-old Maria Gast.
For Gast, something horrible happened Feb. 13, 2012 on J Street in Sacramento. She got in the car with a driver who had been drinking.
"We hit two trees and spun across the street," Maria said. She knows this not because she remembers anything from that night, but because she's gone through police and news reports from the accident.
Maria woke-up in the hospital with her spinal cord partly severed. The driver didn't survive.
"I had a chance to get in the car with somebody else who got home safely that night," Gast said.
And if decisions like that one are everything, it's the decision Maria made next that was bigger still. She decided to celebrate the fact that she survived rather than despair that she was injured.
Maria hooked-up with 'Walk and Roll,' a group of young women who've had spinal cord injuries- most of them were hurt in car accidents.
And all of them love to dance.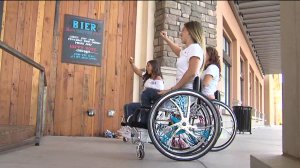 "I feel so normal again. For me, I don't feel the chair when I dance," said Chelsie Hill, a co-founder of Walk and Roll.
Since its founding, the dance group has traveled the nation.
"I think that's one of the most incredible things that you don't feel the chair," said Kaitlyn Staten, another dancer.
And so they do dance. And when they aren't dancing, they do all the other stuff young women do.
"Boys?!" laughs Hill.
It's a laugh Staten explains like this:
"Everyone thinks that we might not be able to have a boyfriend now, or that he would have to be in a wheelchair. But oh no, we deal with getting hit on," Staten said.
And that's part of the point they are making when they do a show; they do almost everything everybody else does, with just a few exceptions. They don't drink and drive. They don't text and drive. And they don't take life for granted.