This is an archived article and the information in the article may be outdated. Please look at the time stamp on the story to see when it was last updated.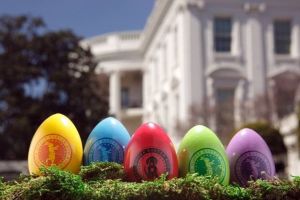 WASHINGTON, D.C. (CNN)-
Ticket holders for the upcoming White House Easter Egg Roll are being warned the annual event could be canceled if lawmakers can't agree on a measure funding the federal government.
"Because we distribute tickets to the Easter Egg Roll far in advance, we alerted all ticket holders that this event is subject to cancellation due to funding uncertainty, including the possibility of a government shutdown. However, we are currently proceeding as planned with the Easter Egg Roll," a White House official told CNN Tuesday.
A person familiar with the ticket confirmations said every attendee received the same cancellation warning on their ticket confirmation, including both members of Congress and those who won tickets through the lottery.
A partial government shutdown would occur if Congress fails to extend funding authorization by the March 27 deadline, something leaders from both parties have said they'd like to avoid.
The Easter Egg Roll – an annual event featuring games, music and the egg roll — is celebrating its 135th anniversary this year. It's slated to take place April 1.
The White House announced earlier this month it was suspending public tours through September 30 as a consequence of the forced spending cuts-known as the "sequester."
The move quickly sparked controversy, with some Republicans arguing the Obama administration was using the canceled tours as a political ploy to draw up negative reaction from the American public over the cuts.
The U.S. Secret Service told CNN that the plan will help the agency save $74,000 per week – or $2 million over the next seven months, which is the scheduled length of the ongoing forced budget cuts. That total covers the cost of paying 37 uniformed officers $50 an hour for 40 hours a week to secure the tour's route through the East Wing.
But that's just a fraction of the $84 million the Secret Service needs to cut from its $1.6 billion budget, according to the Office of Management and Budget. The officers normally assigned to the tours will be reassigned to other duties at the White House.
By Adam Aigner-Treworgy and Kevin Liptak
The-CNN-Wire/Atlanta/+1-404-827-WIRE(9473)
™ & © 2013 Cable News Network, Inc., a Time Warner Company. All rights reserved.