This is an archived article and the information in the article may be outdated. Please look at the time stamp on the story to see when it was last updated.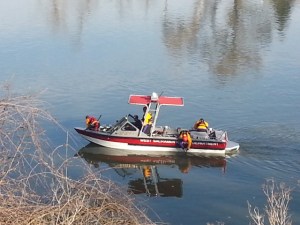 YOLO COUNTY—
DART has been called out to Old River Road just south of the Sacramento International Airport after a woman reported she drove into the river.
The incident started around 8:15 a.m., when the woman called CHP.
She reportedly told dispatchers that she had driven into the river and couldn't get out of her car. The dispatcher lost contact with the woman at some point and couldn't reach her again.
Authorities arriving on scene found evidence that the car is in the water, leading to the call for DART. They reportedly cannot find the driver.
A family member also on scene told authorities that the woman tried contacting them, also saying she couldn't get out of the car.
Family said that the woman was on her way to work at Cache Creek Casino, talking to her daughter on a cell phone, when she lost control and crashed into the river. She reportedly said that her brakes were not working.
Cecilio Padilla contributed to this report.