The viral Tupperware set is a favorite on Amazon
If you were anywhere near a kitchen in the '80s and '90s, you would have been hard-pressed to find a house that didn't have piles and piles of storage containers spilling out from almost every cupboard. Tupperware containers were the height of fashionable kitchen accessories back then, and while styles and tastes changed, the humble container remained. And now, Amazon is selling some favorite vintage-inspired sets.
Tupperware has stood the test of time, and as a throwback to its heyday, the company released a Heritage Collection with colors and designs that tip the hat to its universal utility through the decades.
Shop this article: Tupperware Heritage Collection 36-Piece Set, Tupperware Heritage Collection 10-Piece Set and Tupperware Heritage Collection 10-Piece Nested Canister Set
Tupperware, everywhere
It's hard to argue that for most people, the word "Tupperware" instantly conjures up images of plastic bowls, mismatched lids and incredible durability. But beyond that, many don't consider where the name came from or what it means.
The first iterations of the product were developed by Earl Tupper in 1938 with pure polyethylene pellets. Experimentation and testing led Tupper to design and produce the first product in 1946, selling it in Massachusetts. To keep the lid airtight and the food fresher, he patented the "burping seal," and in the 1950s, the well-known Tupperware Party started to take shape and become more popular among housewives. As the trend took hold in America, Tupperware expanded to Europe in 1960, making it a household name in the following decades.
In the early 2000s, the brand closed down operations in the United Kingdom and Ireland, withdrew from Israel in 2018, and closed down operations in the Netherlands and New Zealand by the end of 2022.
However, out of all the 82 countries it still operates in, Tupperware's largest markets are Indonesia and Germany. By the end of 2021, Tupperware had a revenue of $1.6 billion and an operating income of $250 million annually.
Vintage-inspired Tupperware on sale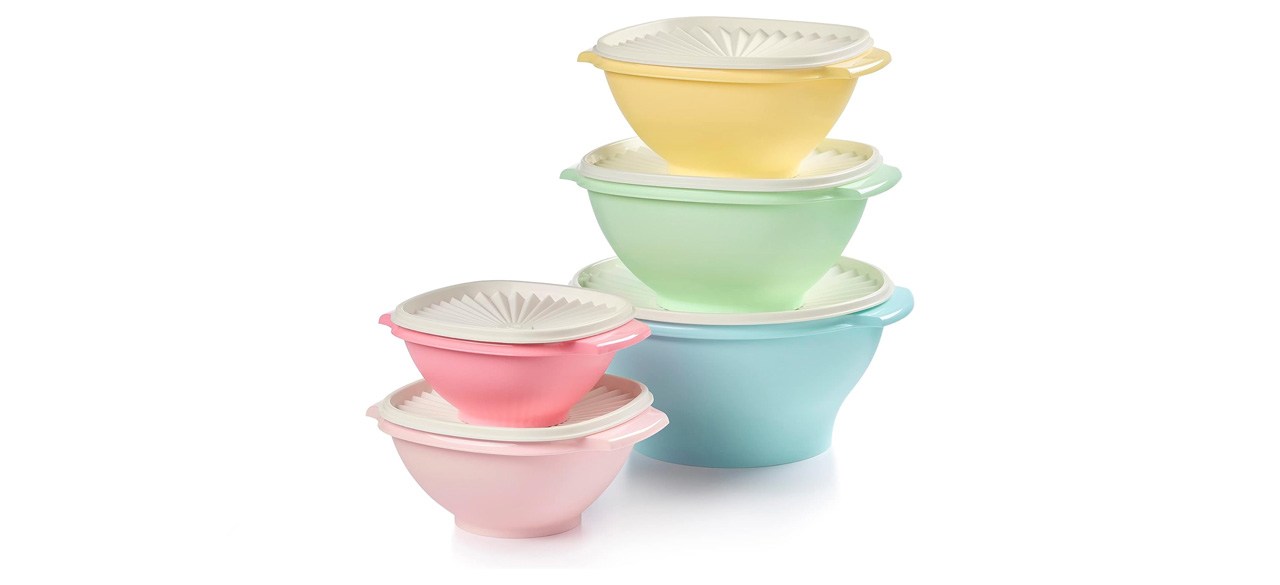 Tupperware Heritage Collection 5 Bowls + 5 Lids
This classic set shines in retro colors and is the perfect starter set: five bowl and five lids. It's 30% off for Black Friday, making it the perfect time to invest in some Tupperware. And there's so much more where that came from.
More vintage-inspired Tupperware on Amazon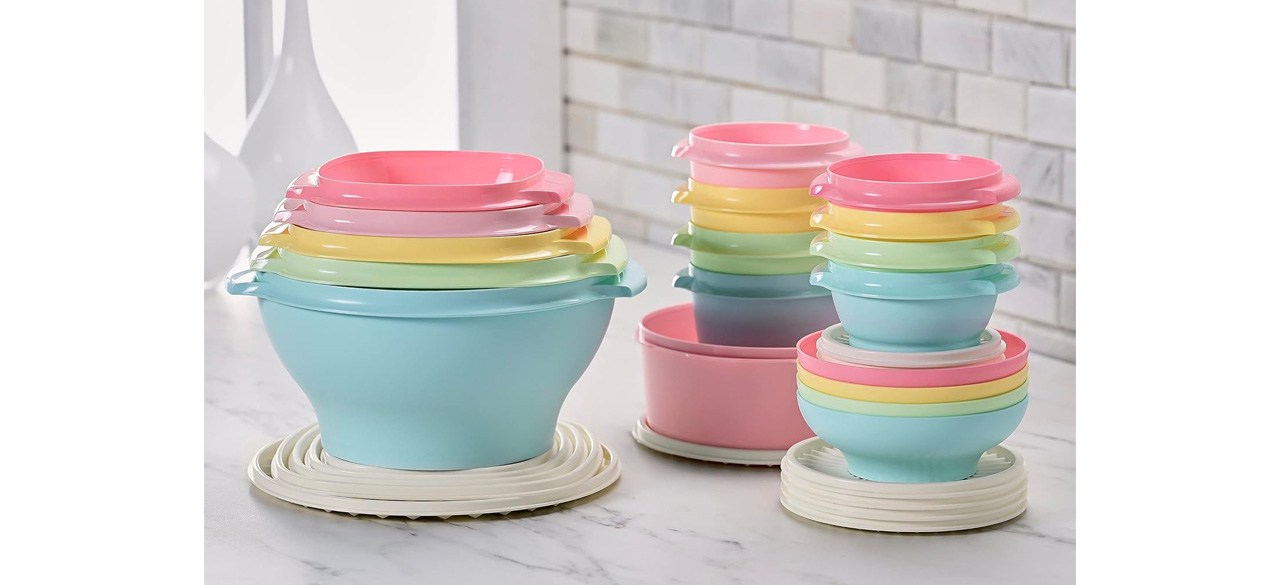 Tupperware Heritage Collection 36-Piece Food Storage Container Set
There is no doubt that this is the ultimate Tupperware set. When you get this 36-piece food container storage set, you'll never have to buy anything else. It includes 18 containers featuring nostalgic Heritage Collection colors and matching white lids. The containers are different sizes, with the largest of the stackable bowls being 11.75 inches across and 6.5 inches high. The smallest container is 5.25 inches across and only 2.63 inches high.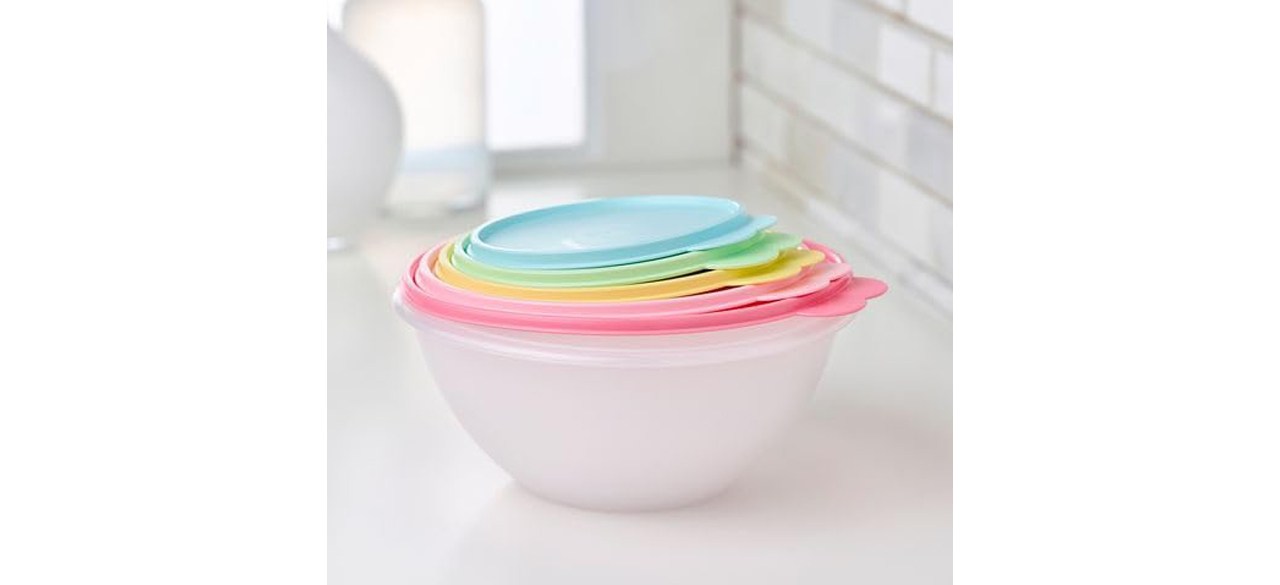 Tupperware Heritage Wonderlier 10-Piece Set
If you still want the nostalgic colors but a somewhat subdued experience, this is the perfect set for you. Instead of the containers having soft pastel pinks, greens or yellows, the five lids bear the Heritage Collection visuals. The bowls, on the other hand, are frosted see-through plastic, which is also BPA-free.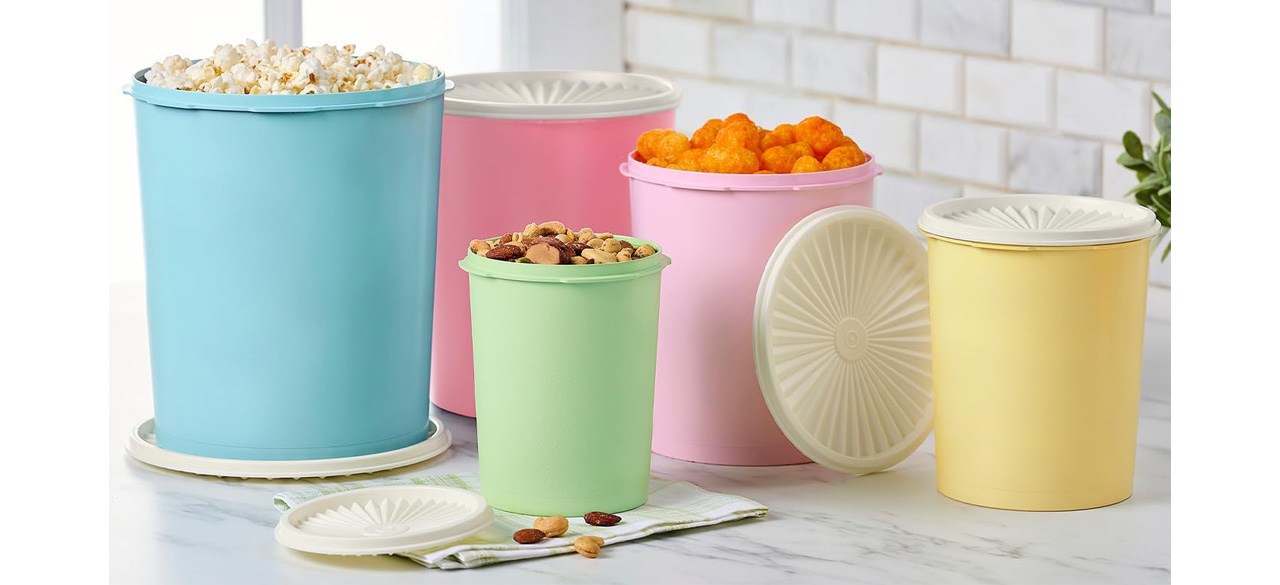 Tupperware Heritage Collection 10-Piece Nested Canister Set
Perfect for pasta, rice, sugar or any ingredients of large quantities, this set of nested canisters will look elegant in any pantry. It comes with five canisters of different heights with matching white starburst lids. As the name suggests, when you need to pack them away, they neatly fit into each other to save space.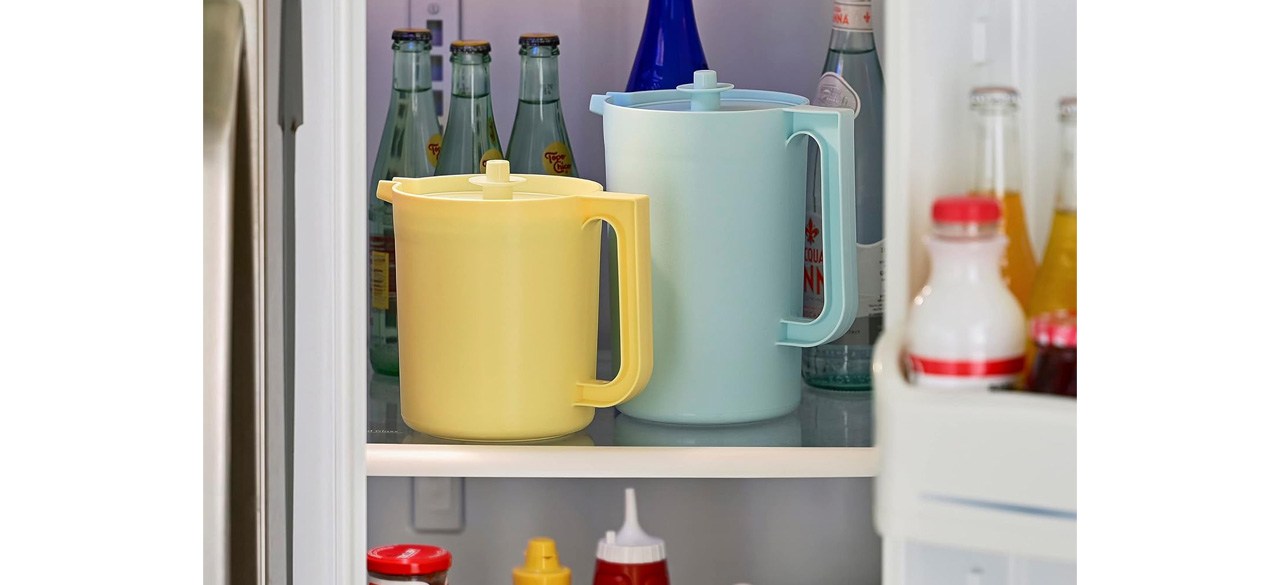 Tupperware Heritage Pitcher Set
Serve cold drinks with this set of two Tupperware pitchers. Each features the iconic design that made them hugely popular and comes in the familiar pastel blue and yellow. Each has its own lid with a smart push-button that takes it from an airtight seal to ready-to-drink in less than a second.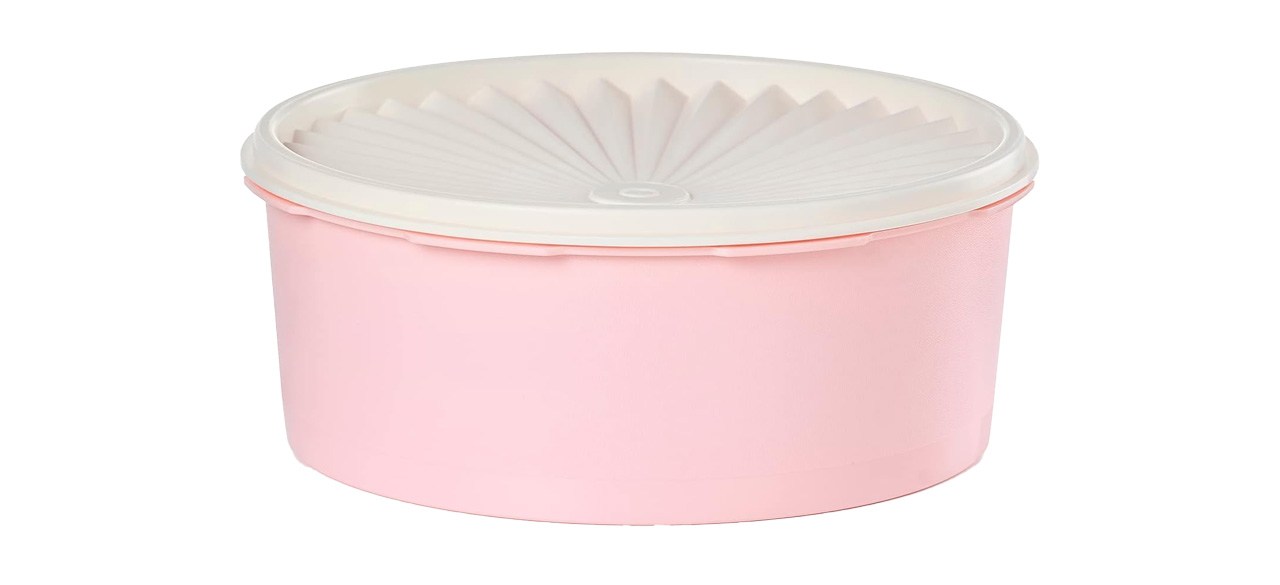 Tupperware Heritage Collection 7.6 Cup Cookie Canister
There is nothing worse than sitting down to a well-deserved cup of coffee with a cookie only to find it stale and soft. Keep all your sweet treats and cookies fresh and crisp with this Heritage Collection cookie canister. Available in four colors (green, blue, pink and red), you can also make it part of a 10-piece or eight-piece set. This one holds 1.9 quarts and has a white starburst lid.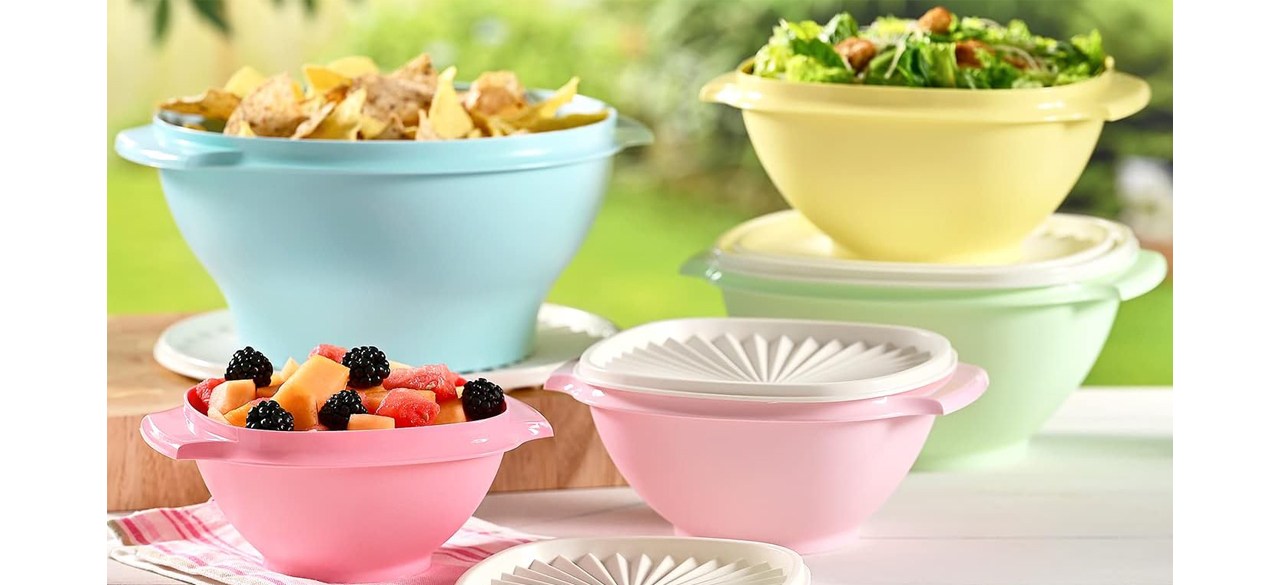 Tupperware Extra-Large Bowl Bundle
Old meets new in this Tupperware bowl bundle, as it consists of a blue 17.25-cup Heritage bowl with a starburst lid and a crystal-clear Tritan Store & Serve bowl, which has a capacity of 25.25 cups. Both lids form an airtight seal and are leakproof.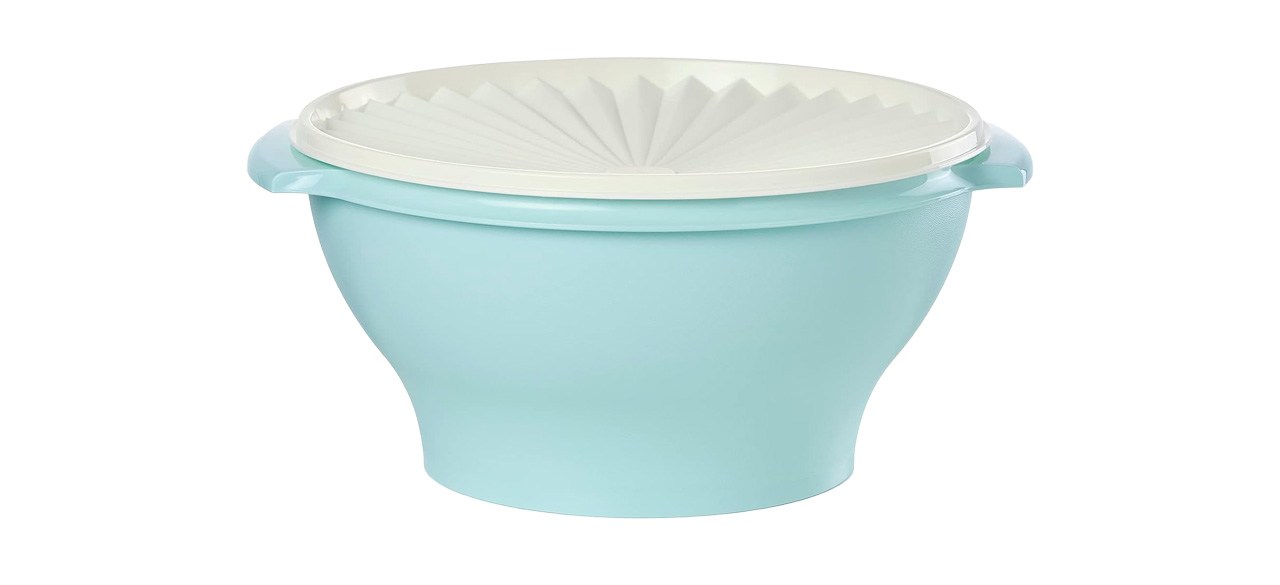 Tupperware Heritage Collection 17.25 Cup Bowl with Starburst Lid
If you are new to Tupperware and want to test it out for yourself, this Heritage Collection single bowl in vintage blue is an excellent starting point. It has a 17.25-cup capacity and comes with a white starburst lid, that's leakproof and airtight. The container is made from BPA-free plastic and is dishwasher-safe.
Tupperware worth checking out
Want to shop the best products at the best prices? Check out Daily Deals from BestReviews.
Sign up here to receive the BestReviews weekly newsletter for useful advice on new products and noteworthy deals.
Charlie Fripp writes for BestReviews. BestReviews has helped millions of consumers simplify their purchasing decisions, saving them time and money.
Copyright 2023 BestReviews, a Nexstar company. All rights reserved.