This is an archived article and the information in the article may be outdated. Please look at the time stamp on the story to see when it was last updated.
Which toddler toys on Amazon are best?
The best toys for toddlers engage them physically, mentally and emotionally while they're having fun. At this stage, kids are moving about under their own power and learning to walk, talk and figure things out. They are learning how to be independent and how to imitate the behaviors of others.
What is a toddler?
The primary definition is a young child who is learning to walk. The period between 12 and 36 months of age is a time of rapid physical, social and cognitive development.
Physical development is how toddlers learn to walk, balance and grasp things with their hands.
Social development is how young children learn to interact with their environment and how they develop relationships with others.
Cognitive development in toddlers is focused on thinking, remembering and speaking.
Why are toys good for toddlers?
Young kids want to play and learn everywhere. Indoor and outdoor toys for toddlers help them develop in many ways.
They increase their physical activity: Toys motivate toddlers to get away from the TV and play.
They grow their motor skills: Toddlers are learning to grasp things and move them from place to place.
They learn to play with others: Toddlers may begin by talking with pretend friends but gravitate toward playing with others and learning to share and take turns.
What to look for in quality toddler toys
Familiar things: Toddlers are beginning to recognize the names of familiar objects. Verbal toddlers are starting to form phrases and simple sentences.
New things: Toddlers are curious and eager to learn.
Activity: Toddlers are full of energy and toys that keep them active help them develop their motor skills. Look for toys that encourage them to walk, run and leap.
Pretend play: Playing gives toddlers the opportunity to develop new skills at their own pace.
Options: Toddlers are tinkerers who like to take things apart and put them back together. Look for toys that can be played with in several different ways.
Growth potential: Kids are notorious for how quickly they move from being excited about a new toy to being bored by it. They will surely outgrow most of their toys, so look for toys that can be used in different ways as toddlers become preschoolers.
Exploration: Kids are adventurers and problem-solvers. Puzzles, blocks and shape-sorters encourage their curiosity.
Imagination: Look for toys that encourage toddlers to make up stories. The more kids have to use their own ideas and solve problems, the quicker they develop skills that last a lifetime.
Structured vs. unstructured play
Toddlers need both kinds.
Structured play teaches logic and process because the players follow instructions, master new skills and take steps to achieve goals.
Unstructured play is led by the child and has no instructions, allowing them the freedom to experiment. It develops imagination and encourages creative thinking.
Best toddler toys on Amazon for both indoors and out
Most toys for toddlers can be used anywhere.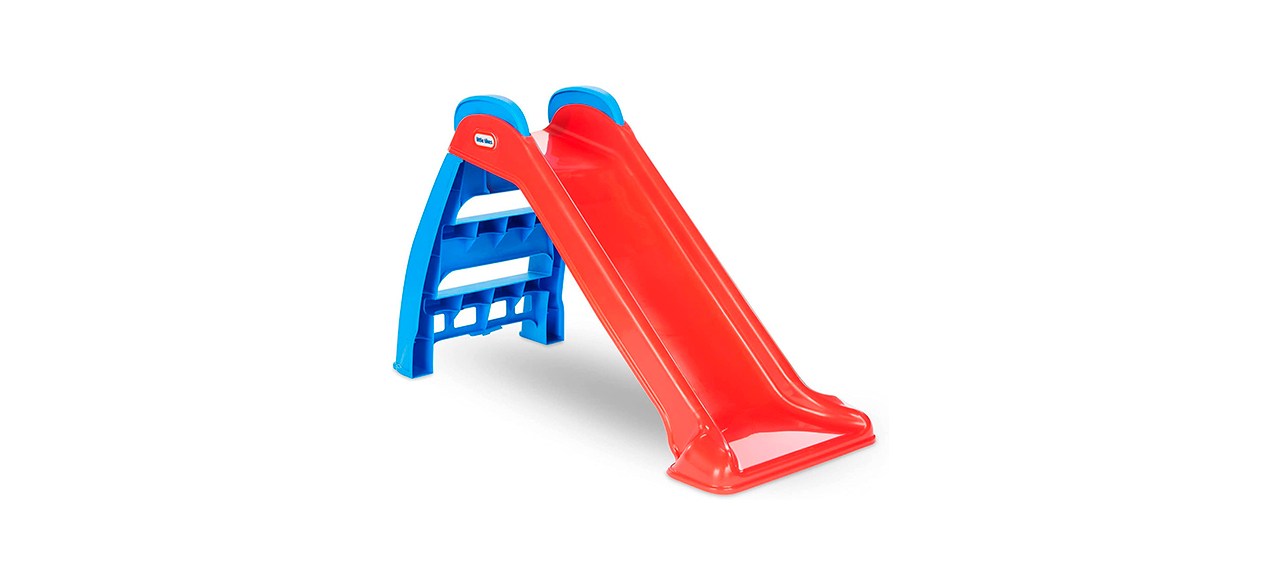 Little Tikes First Slip and Slide
This colorful, durable plastic slide is 3 feet long and has safety handrails. The pieces snap into place with an audible click so you know the connection is secure.
Where to buy: Sold by Amazon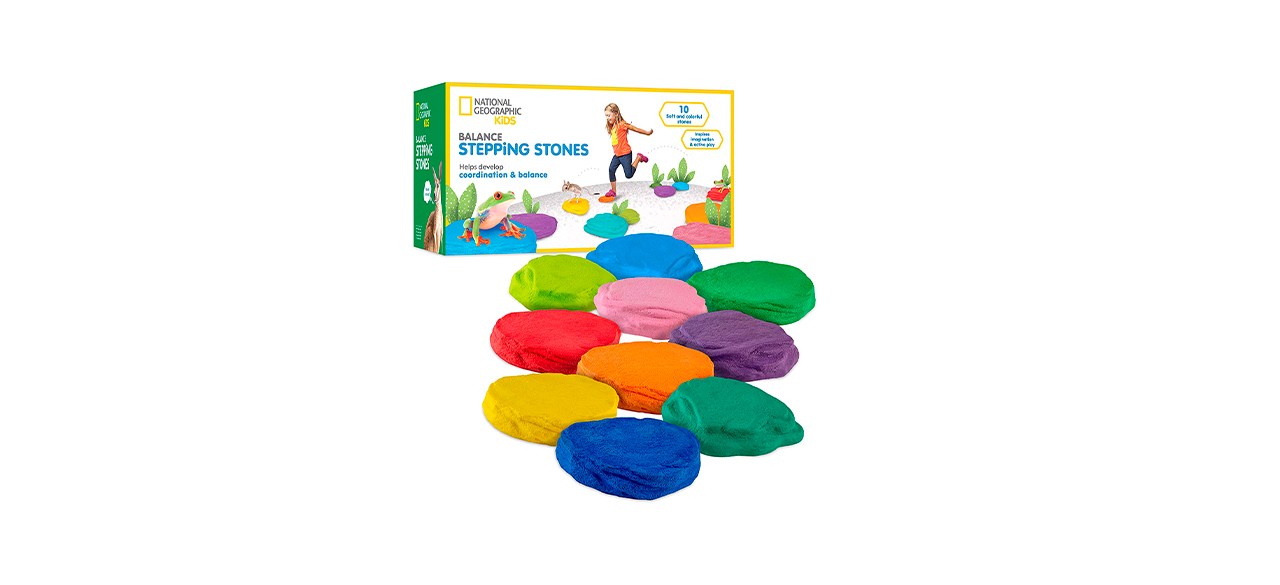 National Geographic Stepping Stones for Kids
Toddlers at play are developing their balancing skills while they jump on these 10 soft, flexible foam pads. They work best on carpeted areas or outdoors on the lawn.
Where to buy: Sold by Amazon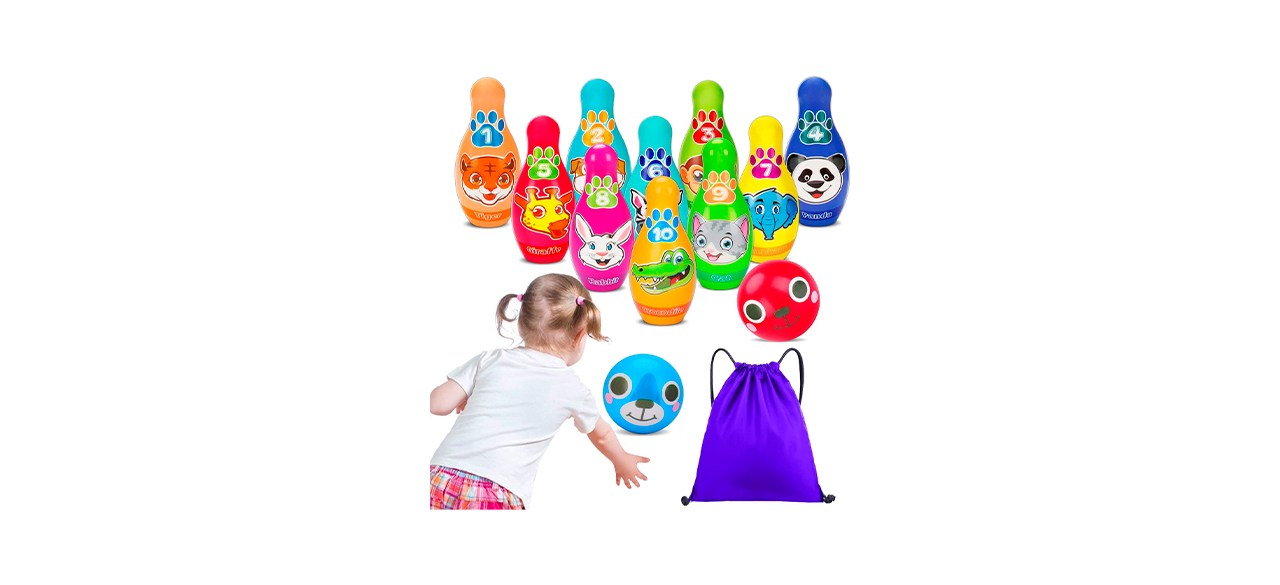 Tsomtto Kids Bowling Set with Storage Bag
Toddlers love rolling the squishy balls at the 6.5-inch-tall soft foam bowling pins. Each of the 10 pins has an animal's face and a number.
Where to buy: Sold by Amazon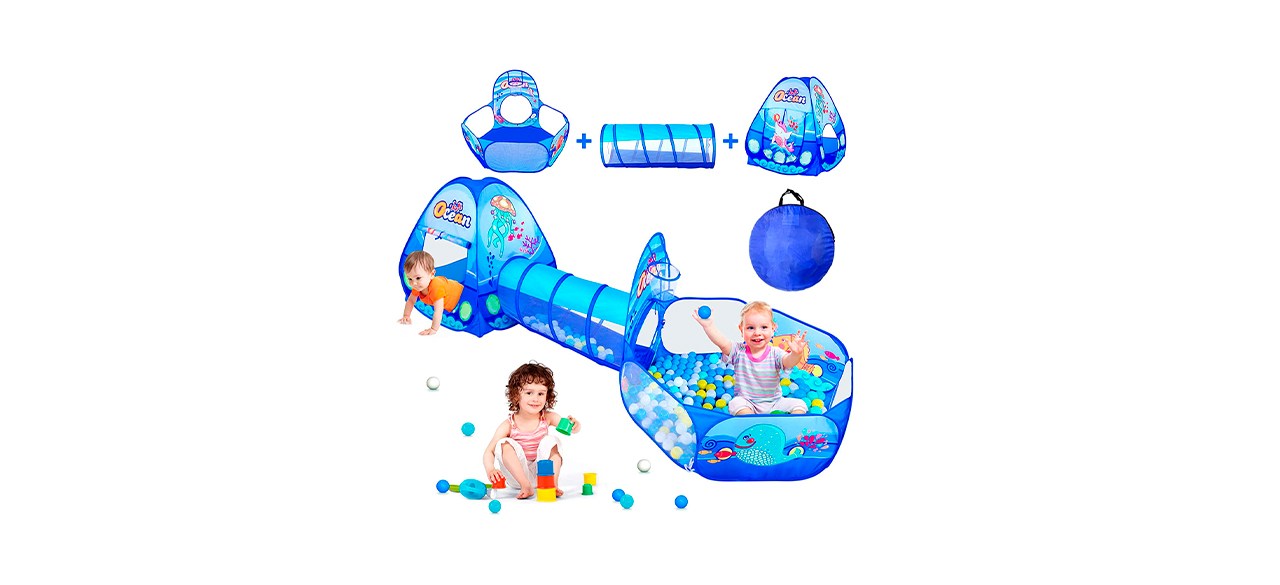 Pig Pig Pen 3-in-1 Kids Play Tent
This polyester tent has a tunnel, ball pit and basketball hoop. It has breathable mesh walls, cleans with a damp cloth and folds into a small package for easy storage.
Where to buy: Sold by Amazon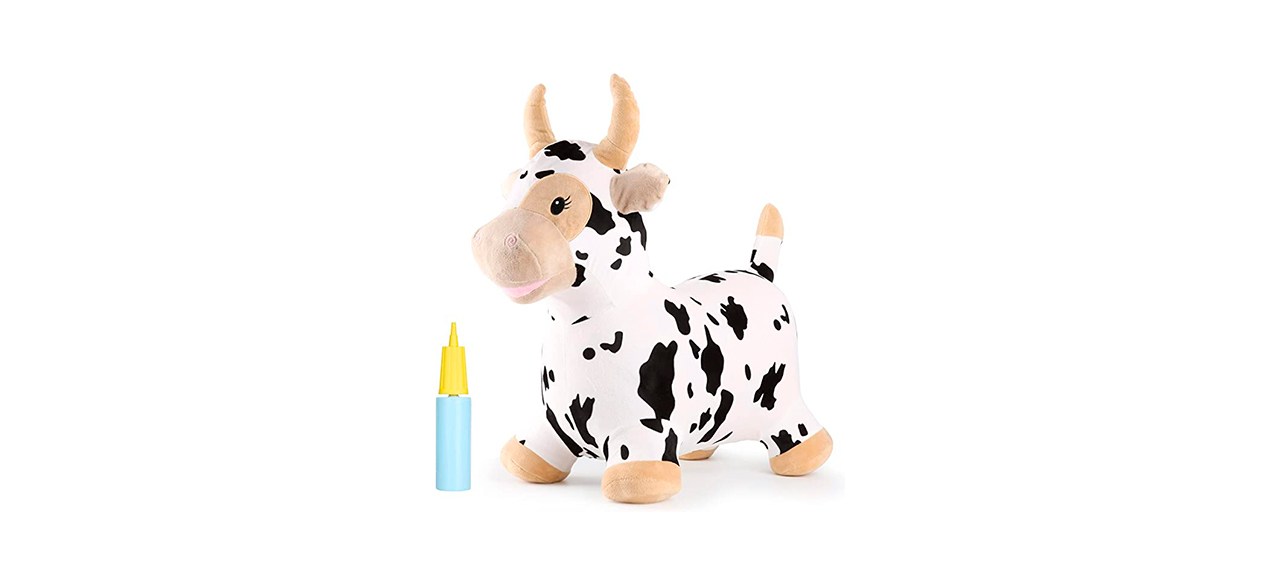 Inpany Bouncy Horse Cow Hopper
This inflatable black and white cow with easy-to-grab ears hops and bounces along with your toddler. It has a low center of gravity, anti-slip feet and comes with its own pump.
Where to buy: Sold by Amazon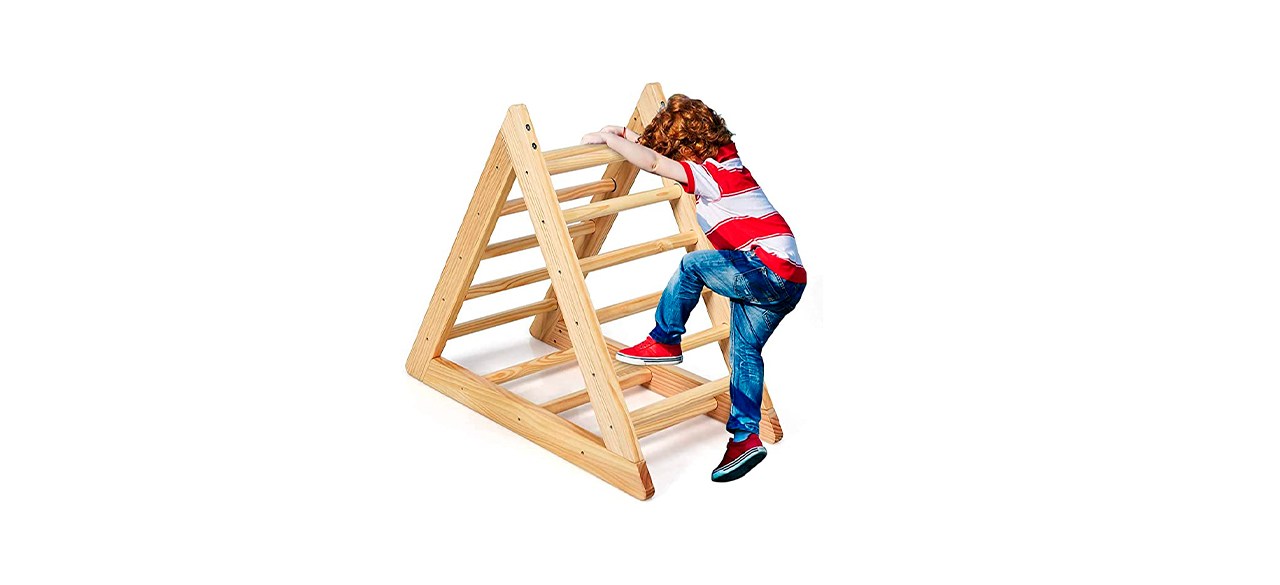 Costzon Wooden Triangle Climbing Toy for Toddlers
Toddlers get their own playground climbing ladder with three levels of difficulty that grow with them. The triangular design is stable and holds up to 135 pounds safely, and the pine wood is polished so kids don't get any splinters.
Where to buy: Sold by Amazon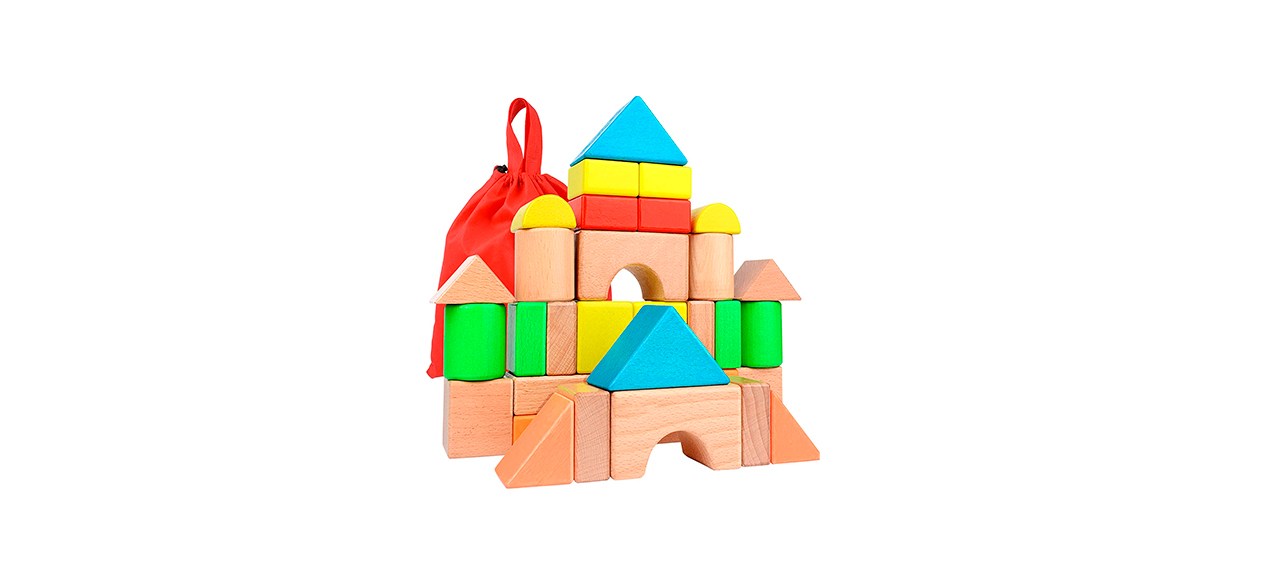 Migargle Large Wooden Building Blocks Set
Toddlers can build whatever they can imagine with these 32 smooth hardwood pieces that come in more than a dozen shapes, sizes and colors. It's unstructured play at its finest.
Where to buy: Sold by Amazon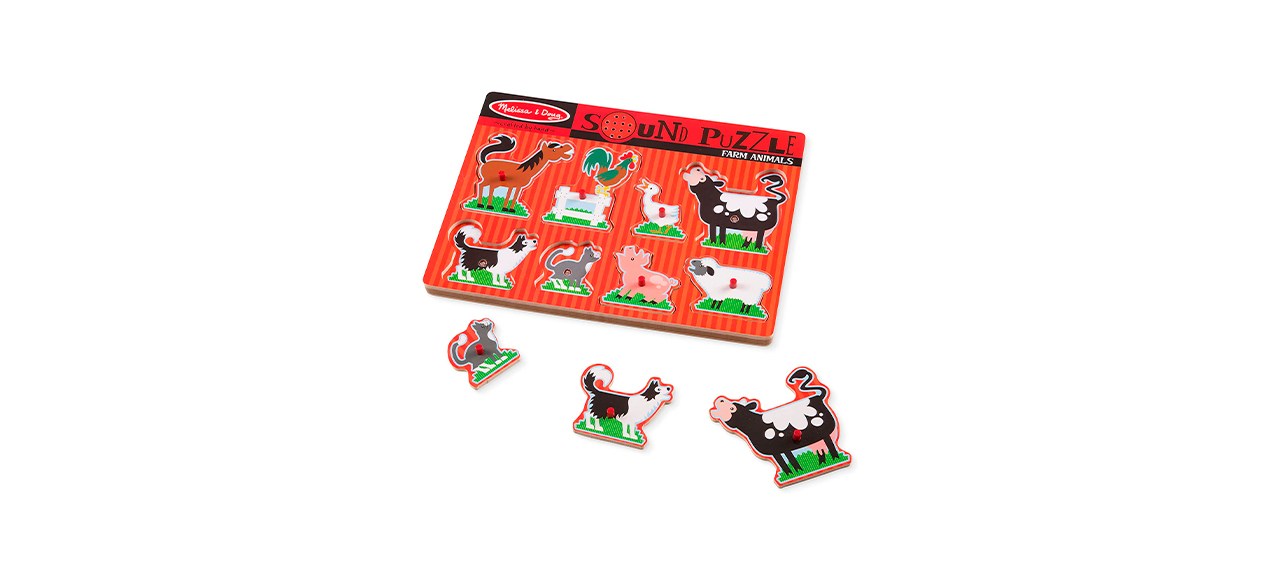 Melissa & Doug Farm Animals Sound Puzzle
This sturdy wood cutout board has eight animal puzzle pieces with knobs that are easy to grasp with tiny hands. When toddlers match the animals to the cutouts, each makes its familiar barnyard sound.
Where to buy: Sold by Amazon
Best outdoor toddler toys on Amazon
Some toys for toddlers are better used outdoors and need to be durable enough to stand up to the weather.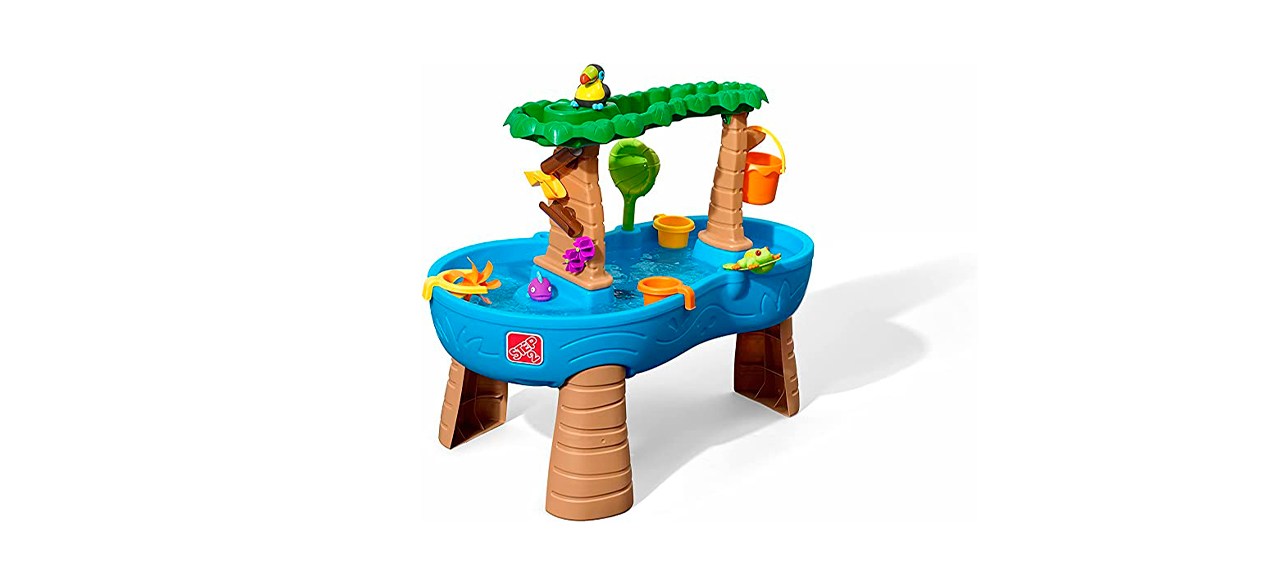 Step 2 Tropical Rainforest Water Table
This 3-foot-long jungle-themed water basin stands on four legs at toddler height and holds up to 5 gallons of water. It comes with 13 tropical accessories and the rain shower effect from the treetop canopy makes realistic rainfall sounds.
Where to buy: Sold by Amazon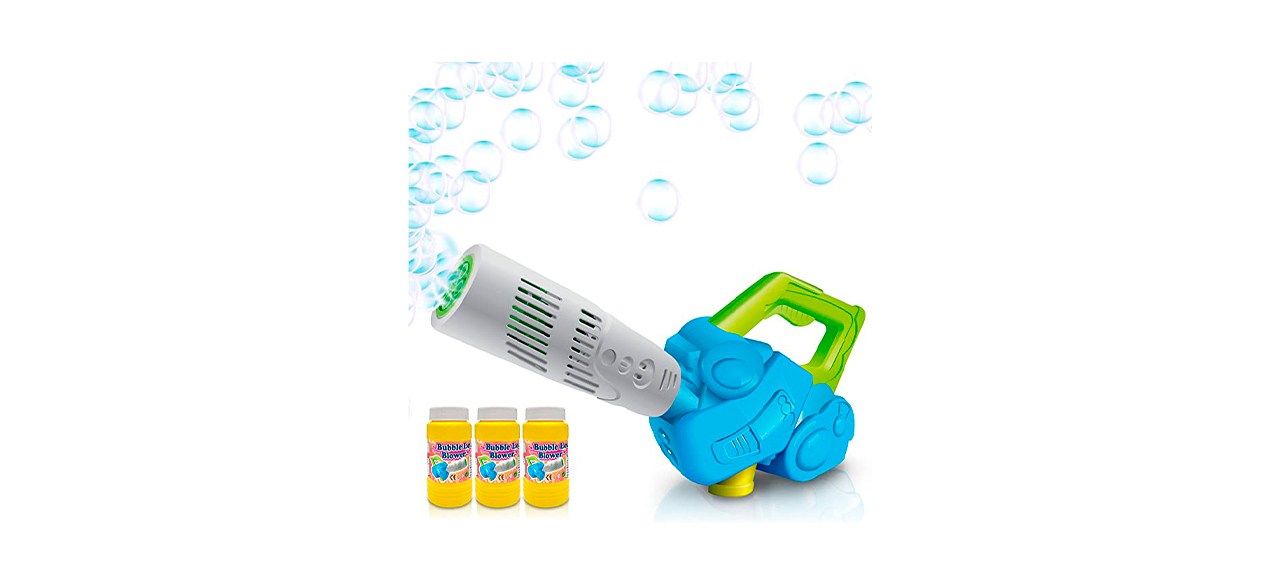 Art Creativity Bubble Leaf Blower
This 15-inch leaf blower blows a steady stream of bubbles, not leaves, with its battery-powered motor. All kids have to do is fill the reservoir with the included nontoxic bubble solution and squeeze the handle.
Where to buy: Sold by Amazon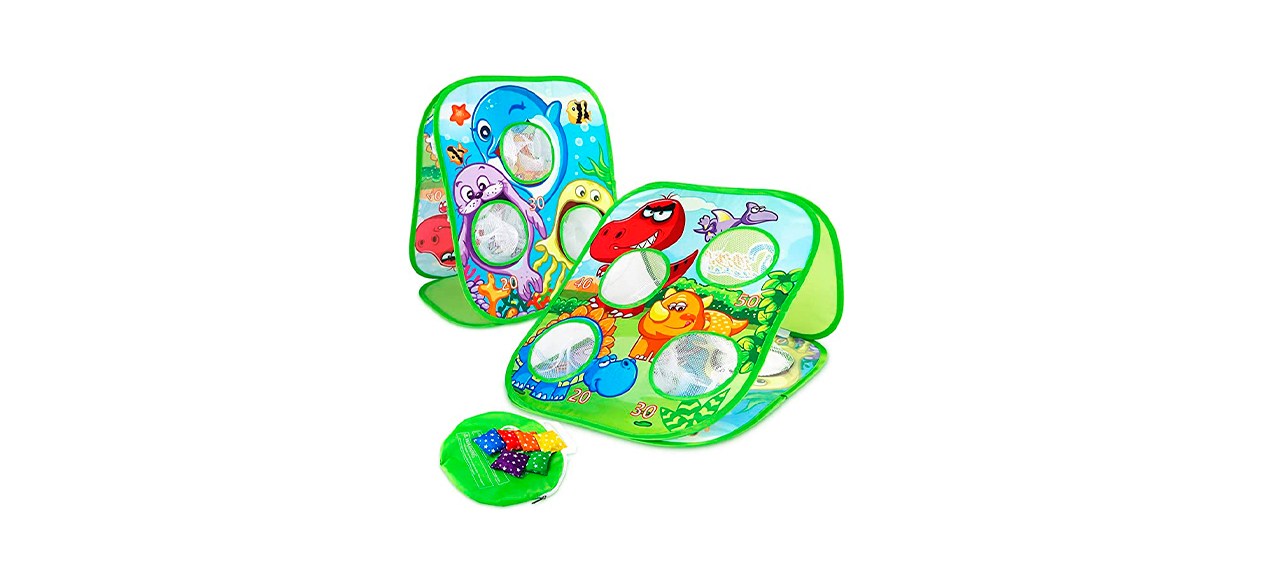 Sisland Bean Bag Toss Yard Game
It's the toddler version of the hugely popular cornhole game where kids toss bean bags into holes in the target. It's got a dinosaur theme on one side and sea creatures on the other.
Where to buy: Sold by Amazon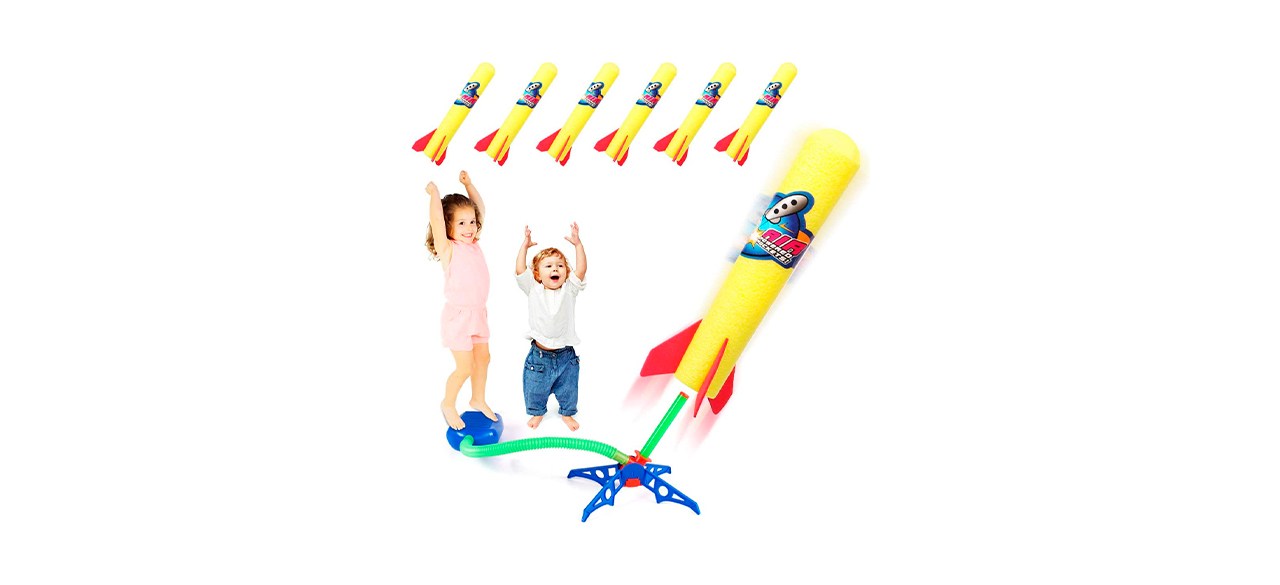 Duckura Kids Jump Rocket Launchers
Set the foam rocket on the launching pad, connect the air hose and jump on the stomp launcher to send it soaring into the air with toddler-powered compressed air.
Where to buy: Sold by Amazon
Want to shop the best products at the best prices? Check out Daily Deals from BestReviews.
Sign up here to receive the BestReviews weekly newsletter for useful advice on new products and noteworthy deals.
David Allan Van writes for BestReviews. BestReviews has helped millions of consumers simplify their purchasing decisions, saving them time and money.
Copyright 2023 BestReviews, a Nexstar company. All rights reserved.