This is an archived article and the information in the article may be outdated. Please look at the time stamp on the story to see when it was last updated.
LODI-
The nomadic turkey that wandered around Lodi and won over the hearts of several locals will now be featured in his own children's book.
Turkey Tom Kettleman was first seen in Lodi back in spring. Over several months the turkey was seen and praised around Lodi, and his quirky presence gained him thousands of fans on Facebook.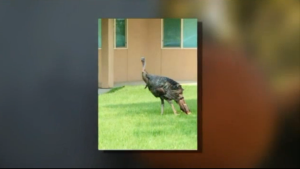 Sometimes he could be seen using the crosswalk to cross six lanes of traffic on Kettleman Road, thus how he earned his name.
On September 28th the turkey was hit and killed by a car, and locals showed their respect with a candle lit memorial.
Following the turkey's short life, local author Donna Pacini-Christensen and wildlife artist Joe Garcia have put together a children's story in honor of the bird called "Tom Kettleman — The People's Turkey," and they plan to release it before Christmas of this year.
In the story, Tom talks with a 7-year-old named Alex. Tom urges Alex and other children to turn off their cell phones, to slow down, and to enjoy simple pleasures such as visiting Lodi Lake, reading a book, or fishing with a hook, according to the release.
All profits from the children's book will be donated to PALS in Lodi to help fund construction for PALS HAVEN, a new animal shelter.
To pre-order your copy click here.