This is an archived article and the information in the article may be outdated. Please look at the time stamp on the story to see when it was last updated.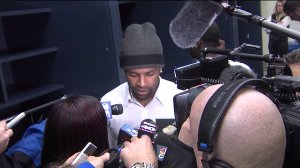 SEATTLE—
In a brutal, hard-fought game, the San Francisco 49ers had their Quest for Six cut short.
The 49ers held onto slim leads for most of the game, but Seattle managed to pull ahead in the 4th quarter on a 4th down attempt that resulted in a touchdown. After all was said and done, Seattle came out on top 23-17.
Colin Kaepernick ran for over 100 yards, but turned over the ball three times in the 4th quarter – first by having the ball stripped and then throwing 2 interceptions.
The final interception came on a drive that had the 49ers in scoring position with less than a minute to go. Kaepernick threw the ball into the corner of the end zone, but the ball was tipped and eventually caught by the Seahawk's Malcolm Smith.
Earlier in the day, the Denver Broncos punched their ticket to the Super Bowl by defeating the New England Patriots 26-16. Seattle and Denver will meet up on Feb. 2 for Super Bowl XLVIII, which will be broadcasted right here on FOX40.