This is an archived article and the information in the article may be outdated. Please look at the time stamp on the story to see when it was last updated.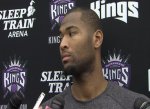 UPDATE: DeMarcus Cousins tweeted later Thursday, "Thanks for all the concern. I'm fine."
There is still no confirmed information about the incident during Team USA practice today, but Cousins declaring himself "fine" is sure to be relief for Kings fans and the Kings franchise.
Cousins reportedly was chasing after a loose ball in practice today when he went to the floor, and teammate Anthony Davis fell on him. Cousins got up favoring his right leg, apparently having impacted his right knee.
He subsequently left the court area without assistance, a good indication there is probably no serious damage to the knee. Kings spokesman Chris Clark told FOX40 News Team USA may choose to have Cousins undergo an MRI on the knee this evening as a precautionary measure, but Clark indicated the Kings are not concerned, at this point, especially in light of Cousins declaring he is fine.
ORIGINAL POST:
Sacramento Kings center DeMarcus Cousins had to be helped off the court today during a USA Basketball team practice, according to multiple media reports.
There has been no confirmation from either USA Basketball or the Kings about the possible injury, or its severity. The situation was reported by several media outlets who are covering the team's workouts in Chicago.
Indications are Cousins injured his right leg, perhaps his knee. Tweets say he was helped off the floor to the sidelines, then taken from the gym to be examined.
This was the first USA practice since Paul George suffered a horrible leg injury in the team's final scrimmage before leaving training camp in Las Vegas. Paul is said to be lost to his NBA team, the Indiana Pacers, for all of next season.
That incident started a debate about NBA players, who are paid millions of dollars by their respective teams, competing in competitions like the World Cup of Basketball, risking possible injury, which could force them to miss part or all of the NBA season.