This is an archived article and the information in the article may be outdated. Please look at the time stamp on the story to see when it was last updated.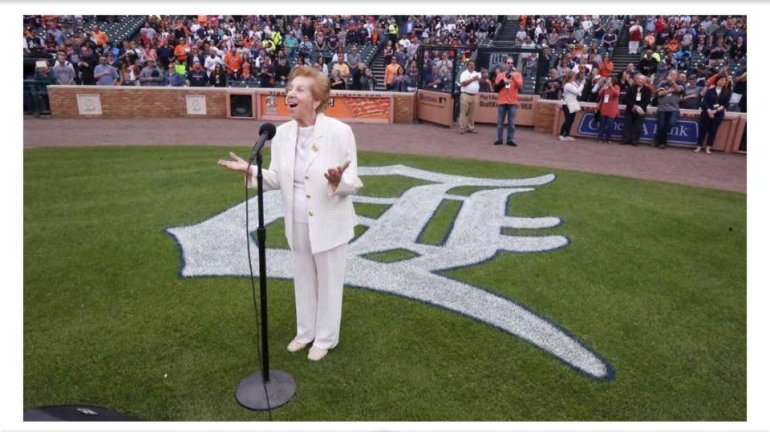 (CNN) — Hermina Hirsch loves to sing the national anthem — and she has a good reason for it.
"It's one of my favorite songs because I'm grateful for the things that America did for me," she told CNN.
Hirsch is a Holocaust survivor and she has been performing the song for more than 40 years at various Jewish and Holocaust events in Michigan.
What she really wanted to do is sing it at a Detroit Tigers opening day game.
And over the weekend, her wish came true.
Surviving horror
During World War II, Hirsch was imprisoned in five different concentration camps, including Auschwitz.
She lost her parents, her brothers, her aunts and uncles died during the Holocaust. Her two sisters survived.
Following the war, Hirsch and her husband, Bernard, moved from Czechoslovakia to the United States. She quickly fell in love with her new country.
"When I arrived in 1949, my wish was fulfilled," she said. "I was glad to be in this country…and have my kids here."
A bucket list wish
In April, Hirsch was having lunch with her children when she said she wanted to sing the national anthem on opening day before she died, her granddaughter, Andrea, said.
Andrea's uncle filmed a video of Hirsch singing and Andrea posted it on Facebook. It was viewed more than 30,000 times and gained the attention of the Tigers. An invitation to perform soon followed.
On Saturday night, before the Tigers took on the Tampa Bay Rays, Hirsch strode on to the field. Her soprano echoed through Comerica Park.
"She wasn't nervous. She was in her element," Andrea said. "She has no problem being in front of a crowd. She was overjoyed just to be there. She said she thought her family was way more excited to be there than she was."
Hirsch's husband of 69 years is a big Detroit Tigers fan which is another reason she wanted to sing.
"My husband was crying after and said the impossible became the possible."