This is an archived article and the information in the article may be outdated. Please look at the time stamp on the story to see when it was last updated.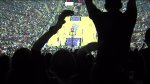 SACRAMENTO-
The Sacramento Kings now have a father-son duo on their coaching staff.
The team announced Tuesday that Brendan Malone, head coach Michael Malone's father, as an assistant coach. The Malones are now only the second father-son pair to hold the title of head coach after Bill and Eric Musselman.
The Malones previously worked together as assistant coaches with the New York Knicks during the 2002-03 season.
Brendan Malone has 27 years of NBA experience, the Kings said in a news release.