This is an archived article and the information in the article may be outdated. Please look at the time stamp on the story to see when it was last updated.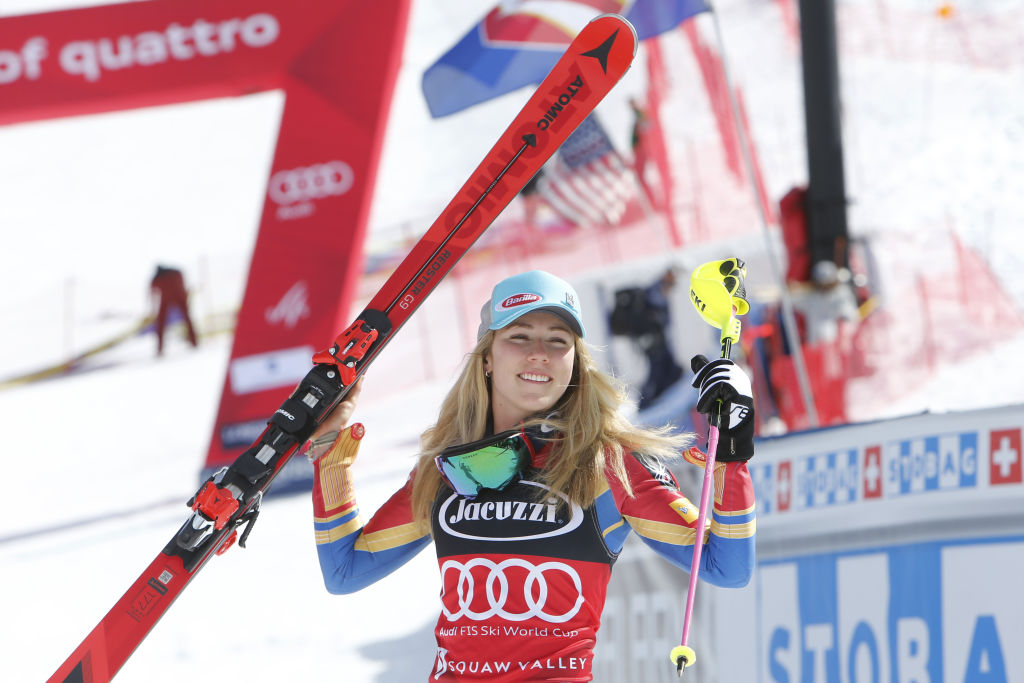 OLYMPIC VALLEY (AP) — Mikaela Shiffrin shook her head after a final run that featured plenty of mistakes followed by some remarkable recoveries.
She left the door open, she feared. Turns out, not so much. Not the way she's racing.
The American standout clinched her fourth slalom title in five seasons before she took her first run and then capped off an electric day with the win at a World Cup race in Squaw Valley on a warm Saturday.
"I'm not proud of my skiing, I think it was very scrappy and I'm proud of the fight," Shiffrin said. "But it's not my best skiing. To fight my way to the finish and come away with another win today, sometimes it's better to do that than to feel like I skied unbelievable."
Trailing going into the final run, Shiffrin overcame some early slip-ups to turn in a combined time of 1 minute, 39.48 seconds. Then, she anxiously waited to see if it was good enough.
First-run leader Wendy Holdener of Switzerland was the last racer of the day and took some chances before crashing out near the finish line to give Shiffrin her 31st career World Cup victory. Sarka Strachova of the Czech Republic was second, 1.03 seconds back, and Bernadette Schild of Austria finished third.
Shiffrin, who turns 22 on Monday, completed the Squaw Valley sweep, winning the giant slalom Friday as the World Cup returned to hill for the first time since 1969.
Exhausted, she fed off the crowd's energy.
"It was amazing to hear them screaming," said Shiffrin, who's from Eagle-Vail, Colorado. "An incredible crowd, so happy to be competing in front of them."
She now leads the race for the overall title by a commanding 378 points over Ilka Stuhec of Slovenia heading into the final four competitions at the World Cup Finals in Aspen.
That doesn't give Shiffrin any sense of added comfort, though, in her bid to join Phil Mahre, Tamara McKinney, Bode Miller and Lindsey Vonn as the only Americans to win the overall crown.
"It's something I feel like I haven't quite earned yet, even if I have it almost on paper," Shiffrin said. "It adds a little bit of pressure almost."
Shiffrin wrapped up the season-long slalom title when her closest competitor, Veronika Velez Zuzulova of Slovakia, wiped out right before Shiffrin took her first turn through the challenging course. Shiffrin wound up the morning session in second place, 0.02 seconds behind Holdener.
"This is what I want and now I have to go for it," Holdener said about her strategy going into run No. 2.
Holdener went for it all right, but skied out with just a few slalom gates remaining.
"I didn't necessarily take the win from her," Shiffrin said. "Sometimes, that happens. Sometimes, you fall. She was going for it. It's really amazing to compete with someone like her on the World Cup. … She has so much aggression. It's really cool to have someone push me like that."
Her celebration plans are modest — a well-earned nap.
"The only thing want to do after winning a race is sleep," Shiffrin joked. "It's the only thing I ever want to do at all."
Shiffrin rose to prominence in the slalom, capturing gold at the 2014 Sochi Olympics and three straight titles at the world championships.
Her fourth crystal globe in the discipline ties her with Austrian skier Marlies Schild. Vreni Schneider of Switzerland has the most slalom titles among women with six.
How about this for a coincidence: Shiffrin's first World Cup podium was a third-place finish during a slalom race in Austria on Dec. 29, 2011. The winner that day was Marlies Schild, the older sister of Bernadette, who was fifth after the first run and moved up for her first podium in three years.
"After such a long time without a podium, you actually start to, well, not believe in it somehow," Bernadette Schild said. "I did it … The belief is back. I can do it again."