This is an archived article and the information in the article may be outdated. Please look at the time stamp on the story to see when it was last updated.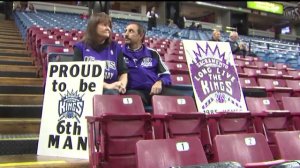 SACRAMENTO-
The local legend Barbara Rust, affectionately known as "Sign Lady," will be inducted into the ESPN Fan Hall of Fame on May 29th at Sleep Train Arena.
The event will be on ESPN's main campus in Bristol, Connecticut, and Sign Lady will be presented in Sleep Train Arena via satellite.
READ MORE: 'Sign Lady' Opens Up about Cancer Battle, Fan Hall of Fame
Rust has been a faithful supporter at Kings home games since the team moved to Sacramento in 1985. She recently was diagnosed with breast cancer, and has continued to support the team vigorously. She is widely considered by Kings fans to be the heart of the city's loyal fan base and is known for her countless creative signs that she brings to every Kings home game. You can find a gallery of some of her signs on the Kings official website here.
The ceremony will honor Rust, Canaan Sandy and Pierce Wallace aka "The Georgia Joker."