This is an archived article and the information in the article may be outdated. Please look at the time stamp on the story to see when it was last updated.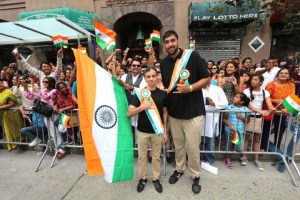 NEW YORK, New York —
Sacramento Kings Major Owner Vivek Ranadivé served as Grand Marshal for the world's largest India Day Parade in New York City on Sunday morning. The parade, which honors India's Independence Day, was broadcast in over 40 countries and reached over three million Asian-Indians in America.
Ranadivé is the first Indian-born owner in NBA history. According to the Sacramento Kings, he was asked to lead the parade because of his contributions as an Indian-American that has enriched and inspired so many Indians in the United States and abroad.
"No words can describe what we are experiencing here today. Over 150,000 people were here to experience the India Day parade and I can't express how proud I am that the Kings and the NBA were a part of this transcendent moment," said Ranadivé. "I am also excited to announce that early in December, I will be taking our new NBA Commissioner Adam Silver to India for his first international trip [to India] as commissioner."
Sim Bhullar, the Kings' newest signing, also attended the parade with the Kings' owner.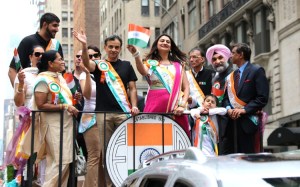 Bhullar is the first player of Indian descent to sign with an NBA team. He gained a lot of attention in his two years playing in the WAC at New Mexico State, primarily for his size. The 7'5″, 360-pound center went undrafted in the NBA draft back in June, but gained a spot on the Kings' roster after being a part of the team's Championship-winning NBA Summer League squad.
Since Ranadivé purchased the Kings in March 2013, the NBA has focused more attention on India, as it is a mostly untapped market. The Kings televised over 20 live games in India, launched a website in Hindi to connect with a rapidly growing Hindi-speaking fan base from around the world, sent the Sacramento Kings players and dancers to Mumbai, and signed the team's first India-based sponsor.
Greg Cotta filed this report.