This is an archived article and the information in the article may be outdated. Please look at the time stamp on the story to see when it was last updated.
SACRAMENTO-
Record high temperatures were reached in Stockton and Modesto on Sunday, but by mid-week, just about everyone in Northern California will be cooler, and wet.
Two storms are heading our way, bringing much needed rain and snow for the Sierra.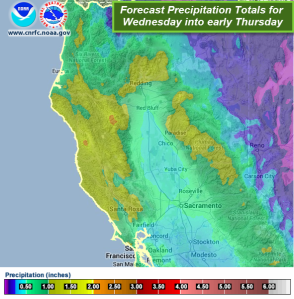 The first storm arrives late Wednesday into Thursday morning. The National Weather Service says it could drop up to seven inches of snow near Donner Pass, around two inches in South Lake Tahoe, but otherwise will just be rain for other locations.
The second storm, expected Friday night into Saturday morning, will have lower snow levels and bring more rain. Snow could come down to around 4,500 feet. There is also the possibility of more thunderstorms and rain that could swell local creeks and rivers.
Kristina Werner, Darren Peck, and Dennis Shanahan will be tracking these storms all week on FOX40 and FOX40.com. For updates, follow our meteorologists on twitter: @KristinasCall, @WeatherAnchor and @Dennis_Shanahan.