This is an archived article and the information in the article may be outdated. Please look at the time stamp on the story to see when it was last updated.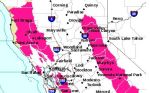 SACRAMENTO-
The National Weather Service issued a Red Flag Warning for the foothills Tuesday afternoon.
The warning will last into Friday morning. Low humidity and gusty winds are expected to last until then.
With a Red Flag Warning and the weather conditions that come along with it, fire danger in the area increases.
The affected area stretches from north of Blue Canyon, through Yosemite National Park and the Stanislaus National Forest, into southern California. Parts of the north coast and Bay Area are also affected.