This is an archived article and the information in the article may be outdated. Please look at the time stamp on the story to see when it was last updated.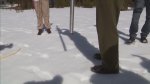 SACRAMENTO-
California Department of Water Resources officials say the numbers in their snowpack survey, released Thursday, paints a "gloomy" picture for the summer water supply.
Water content found is only 52 percent of normal.
Surveyors say November and December were unusually wet, while January and February were very dry. At the end of 2012, the snowpack's water content was 134 percent of normal. That number dropped to 68 percent by Feb. 28.
Water content is usually at its peak at this time of year, the DWS said in a news release.
For the complete survey results, click here.