This is an archived article and the information in the article may be outdated. Please look at the time stamp on the story to see when it was last updated.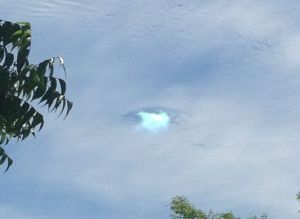 STOCKTON-
At first glance, it looks like some kind of portal into another dimension – but it's just a "hole punch cloud."
FOX40 viewer Jamison Mitchell snapped some pictures of the phenomenon Friday above Bear Creek High School.
A hole punch cloud is when moisture in a cloud is at a temperature that's below freezing, but the moisture itself isn't actually frozen.
The scientific term is "fallstreak hole."
Weather experts say a domino effect with ice crystals punches a hole in a cloud – usually a cirrocumulus or altocumulus.